Chapter 4
From Timurid Samarkand to Janid Bukhara

Timurid - Shaybanid Samarkand 1378-1506


Alexander's Marakanda-Afrasiab had been thorougly destroyed by Genghis Khan. Timur Tamerlane (1378-1506), an Usbegh or Uighur Turk (not a Mongol) fancying himself the successor of Genghis Khan decided to build a new city next to Marakanda: Samarkand. With prisoners from Persia, Armenia, and Georgia he began a vast construction program in Samarkand - which continued under his successors.
Between his military expeditions, which were in every way as disasterous as Genghis Khan's, Timur regularily returned to Samarkand to build new complexes. Hastily constucted, they were shoddy and soon collapsed (Bibi Kanum, the Aq Serai in Shakh-i-Zabz). Little survived from Timur's time but his grandiose style. Some, like the Bibi Hanum Mosque, were reconstructed only under Soviet rule in the latter part of the 20th century. Still Samarkand is rightfully famous, ir harbors perhaps the most magnificent and beautiful architecture of Central Asia.

Samarkand, Uzbekistan
The Registan
The Registan, the central square of Samarkand, is surrounded by three Islamic schools (Madreses): Ulugh-Beg Madresa (1417-1420) left, the Syr-Dor Madresa (1619-1636) right, and the Tilya-Kari Madresa (1646-1660) center. One of the most magnificent Islamic architectural ensembles in Central Asia.
For more photos of Samarkand go to Rolf's Samarkand 1977 and 1989

Samarkand, Uzbekistan
Registan
Syr Dor Madresa
1619-1636
Architects Abdul Jabbar and Mohammad Abbas
Shaybanid
The madrasa was commissiond by the Shaybanid feudal general, Alchin Yalantush Bahadur in erratic stages between 1619 and 1636. A barely readable inscription attributes construction to a certain Abdul Jabbar and decoration to Mohammad Abbas. The site had originally housed a large tim or cupola-covered trading market built by Timur's wife, Tuman-Aka in the 14th century. Timur's successor, Ulugh Beg, had this tim dismantled, to build a domed khanqah or mental hospice, ancillary to his madrasa. Yalantush thus replaced a part of Ulugh Beg's original ensemble, and did not initiate a new one, as is often maintained. (Photos Rolf Gross 1977).


Samarkand, Uzbekistan
Registan
Tilya Kari Madresa
1646-1660
Shaybanid-Uzbeg
The Tilya Kari madrasa was commissioned a decade after the Syr Dor madrasa (1619-1636) by the same patron, Shaybanid feudal general, Alchin Yalantush Bahadur between 1646-60. Once part of the complex built by Timur's wife, Tuman-Aka in the 14th century, the site had housed the Mirzoi caravan sarai. Built originally as a theological seminary, the Tilya Kari madrasa with its large prayer hall became Samarkand's congregational mosque after the collapse of the Bibi Khanum and the dismantling of the Alikeh Kukeltash Mosques. The medresa was extensively restored in Soviet times before 1990 including the chamber underneath the dome. (Photos Rolf Gross 1977 and 1989)


The tiled entry ivan.

Restored interior : tromp l'oeil painting in the non-spherical dome. (Photo from Archnet.org)

Samarkand, Uzbekistan
Registan
Ulugh Beg Medresa
1417-1421
The oldest madrasa on the north side of the Registan and a khanaqah (mental asylum which stood in place of the Syr Dor Medresa) were built by Ulugh Beg to face each other across the square. They were part of Ulugh Beg's large urban project incorporating several mosques, caravanserais and a bazaar. - Of this project only the monumental madrasa survives. In place of the khanaqah now stands the 17th-century Shir Dor Madrasa.

Moon-rise over the Registan. (Photo Rolf Gross 1989)

Samarkand, Uzbekistan
Bibi Khanum Mosque - Masjid-i-Jami
1398-1405
Timurid
Bibi Khanum is named after Timur's favorite wife, who according to local lore supervised the construction during his triumphant expedition to India. To receive him in style when he returned with 60 elephants loaded with precious loot she drove the foreign slaves with a whip - and also had an affair with the architect. Anyway the dome was tiled, the buildings ready, but by the end of the 15th cent most of it had collapsed.
Before its complete reconstruction in 1970s-90s only four massive fragments like enormous teeth and a minaret had survived of this mosque. The broken dome is hidden behind the ivan. (Soviet photo from 1968)

Photo of the mosque from the street after its dome and Ivan had been restored (1990s) (from Archnet.org)

Samarkand, Uzbekistan
Gur-e-Amir Mosque Timur Tamerlane's Mausoleum
1403-1404
Timurid
Timur built this celebrated monument as the resting place for his grandson and heir-presumptive Muhammad Sultan, who died in battle in 1403 at the age of 29. In 1405 Timur himself was interred here, and later were his sons Miranshah and Shah Rukh and his grandson, Pir Muhammad. Timur's spiritual advisor, Sayyid Barakah, also lies within. Ulugh Beg, who had established the tomb as the Timurid dynastic mausoleum and commissioned additions, was the last of the family to be placed within the crypt. (Photos Rolf Gross 1977)


The unique dome after restoration in the 1970s.

Samarkand, Uzbekistan
Shakh-i-Zinda
Timurid Mausolea
11- 15th cent
Surrounded by cemeteries lies the street of the Timurid mausolea. The earliest buildings date back to the 11-12th century. Only the foundations and headstones of these early buildings have survived. The majority are Timurs descendants dating to the 14-15th centuries. (Photos Rolf Gross 1977)
Tile insrcription over the entry door of the tomb of a Sufi saint.


Shakh-i-Zabz, Uzbekistan
Timur's Aq Serai Palace
Entry ivan (gate)
around 1400
This gigantic pair of supports of the entry ivan of Timur's Aq Seray is all that remains of the celebrated palace in Shakh-i-Zabz, his birthplace. Here he received foreign emissaries, whose descriptions have survived the buildings.

A few surviving large tile mosaics give a small idea of the sophisticated spendor of its decoration.

For more photos from Samarkand and Shakh-i-Zabz go to Rolf's Samarkand
Timurid–Shaybanid-Janid Bukhara
1417 - 1712
Bukhara developed its own style during the 15th and 16th century under the Shaybanid and Janid Sultans. It may well be that this learned center of Islam, though beholden to Samarkand, considered the dictatorial style of the Timur distasteful. In Bukhahra the styles ermulate Baghdanian architecture and that of Turk Central Asia combined with more moderate results than in Timurid Samarkand.
Bukhara, Uzbekistan
Ulubegh Medresa
1417-21
Timurid
One of three madresas commissioned by Ulugh Beg, this one in Bukhara was constructed over the same years as that in Samarkand. The builder, Ismail bin Tahir bin Mahmud al-Isfahani utilized the traditional courtyard plan, but instead of the standard four iwans, he included only two. The decorative scheme makes considerable use of hazarbaf brick patterns in dark and light blue glazed tile. The entrance iwan also includes haft rangi tiles with extensive gilding. Photo 1925 from Archnet.org
Bukhara, Uzbekistan
Masjid-i Jami or Kalyan Masjid
early 14th cent., 1514
Timurid, Shaybanid
This immense four-iwan mosque occupies the site of an earlier congregational mosque commissioned by Qarakhanid ruler Arslan Khan, of which only the minaret remains. The structure evident today was initiated under the Timurids during the fifteenth century and completed under Ubaydallah Khan, the Shaybanid appanage in Bukhara.
Hazarbaf brickwork predominates, with hexagonal haft-rangi floral tiles in the spandrels. (Text from Archnet.org, Photo by yves75, Panoramio)
Bukhara
Medresa Mir-i-Arab
1535-36
One copula covers a mosque, the other a karnaka (hospital). Photo flickr.com
Bukhara
Char-Minar Mosque ("Four Minarets")
1589
Shaybanid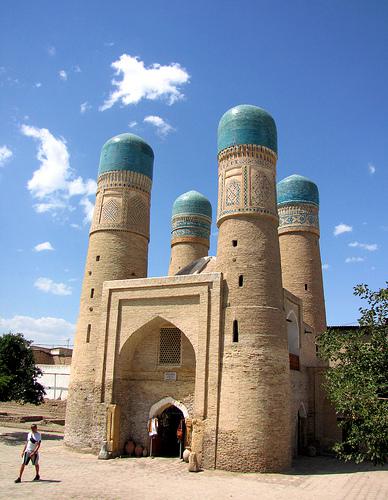 Photo flckr.com

Bukhara, Uzbekistan
Abdulla Khan Madresa and Mosque
1588-90
Shaybanid
Abdullah Khan Madresa, Entry-pishtag
The Shaybanid ruler Abdullah Khan II (1556-1598) built this madresa as a residential theological school, immediately opposite his earlier Madar-i Khan Madresa (1566-67), thus creating another of Bukhara's typical double madrasa ensembles (kush madrasa).
Built during Bukhara's third and last great construction phase when numerous civic structures were commissioned such as caravanserays, tims (markets), taks (domed market kiosks), hauz (lakes) and khanqahs (hospices). This madresa is noted for its mastery of architectural form, plan and structure at a period of declining trade, political stability and lack of architectural innovation.

The intricate Interior of the dome of the mosque
Russian archaeological teams extensively restored the madrasa's exterior tile work in the 1950s. The volute arch and dado of the pishtaq display intricate floral patterns in majolica and are fine examples of contemporary workmanship.

Bukhara, Uzbekistan
Divan Beg Medresa
1622-1623
Janid

Photo flickr.com
Bukhara, Uzbekistan
Bala-Hauz Masjid (Bolo Hauz Mosque)
1712
Janid
The mosque was built in 1712 for Bibi Khanum, the mother of Ashtarkhanid (or Janid) ruler Abu'l Fayud Khan (1711-47) as a private retreat. Although originally conceived as a royal chapel, the mosque has become a significant civic monument.
The Bala Hauz Masjid is noted for the profuse colors and carvings on the wooden columns of its porch and its ceiling. The joinery of its painted ceiling features extraordinary craftsmanship with the use of suspended weights, semi-circular arches and balusters.
The important mosque lies in disrepair today (2004), despite considerable tourist interest. The porch is threatened by water damage while its front minaret tilts precariously despite repair attempts. The pool is not dredged or cleaned, and the public toilet adjacent to the mosque adds to this squalor. (Text and photos from Archnet.com)