Rajasthan Haveli Murals
19th - 20th cent AD
The Havelis of Shekhawati
19th - 20th cent
The Havelis of Shekawati were the19th-century townhouses of the wealthy merchants of the area. Many of them Jain, whose faith forbade them to practice agriculture, because they would inadvertedly kill the lives of living creatures. They became the merchants and bankers of India. The elaborate mansions housed several branches and generations of a single family clan.
Photo Wikipedia
In the Shekhawati the façades of the Havelis are painted with sometimes naïve, occasionally sophisticated murals depicting mythology, history, folk tales, and foreigners and their modern inventions, trains, airplanes, bicycles, telephones and record players. The painters often came from outside the area. Since the 1860s they used artificial pigments introduced from Germany.
These murals are an art form peculiar to the Shekhawati. There exist elaborate "Havelis" elsewhere, but they lack colorful murals.
Photo Wikipedia
Many of the Havelis are now vacant. The families have moved to the larger cities and the buildings are deteriorating. Some can be visited. Life went on in the intimate inside courtyards where the most sophisticated murals are located.
Photo Panoramio
A few Havelis have recently been converted into guest houses or hotels.
Photo goheritageindiajourneys.com
No comprehensive information on Havelis exists in the internet, except for occasional panoramio photos. I have attempted to collect the best of these augmented by texts from various sources. Most helpful was the massive Lonely Planet tome India, 1959 and later. The article in Wikipedia is for all purposes a sham.
Mandawa Havelis
18th-19th cent
Photo Panoramio
Mandawa is the showcase of the Shekhawati, it boasts some of the finest painted Havelis.
Photo Panoramio
Detail of the mural of the elephant spraying the ladies.
Photo Panoramio
A late 19th century collection of the latest English fashion and technical trappings. The mythological peacocks and the local elephants and camels have been relegated to the eaves of the next storey.
Fatehpur Havelis
19th cent
Photo Panoramio
Photo Panoramio
Photo Panoramio
Fatehpur Havelis
1860s
The inner courtyard with its fountain.
Photo Panoramio
This beauty of Fatehpur is now a guesthouse with a French sounding name!
Photo Panoramio
Photo Panoramio
The inner courtyard from the other side.
Sikar Havelis
1860s
Photo Panoramio
Photo flickr.com
Mukundgarh Havelis
1860s
Photo Panoramio
Jhunjhunu Havelis
18th-20th cent
Photo Panoramio
Inner courtyard of the Kaniram Narsisnghdas Tiberwali Haveli in the center of town.
Jhunjhunu is the largest town in the Shekharwati with several excellent hotels.
The Modi Haveli
Photo aapnodesh.com
Nawalgarh Haveli
19th-20th cent
The Anandi Lai Poddar Haveli has been converted into a school.
Its murals are in excellent condition (1920s)
Photo Panoramio
The main entry door to the inner courtyards of another Haveli in Nawalgarh.
Photo Panoramio
Udaipur Havelis
19th-20th cent
Photos Panoramio
Jaiselmer, Patwon Ki Haveli
18th cent
The Patwon ki is the jewel of Jaiselmer's Haveli. It rises in narrow, crowded lane and examplifies the unpainted sandstone architecture of western Rajesthan.
Photo Panoramio
Two apartments of the Haveli are occupied by the Archeological Service of India, the lowest two are craftshops and in the remaining two are private homes.
Photo Panoramio
Jaiselmer, Nathmal ki Haveli
19th cent
Nathmal ki was the abode of another prime minister. It is plainer than the other two but still has an exquistely carved exterior. Photo Panoramio
Jaiselmer, Salim Singh ki Haveli
17th cent
This is one of the oldest Havelis in Rajesthan. It was built by Salim Singh a prime minister at the princely court and is still occupied by his descendants. It used to have two more wooden storeys which the local maharaja tore down because it exceed the height of his palace. Photo Panoramio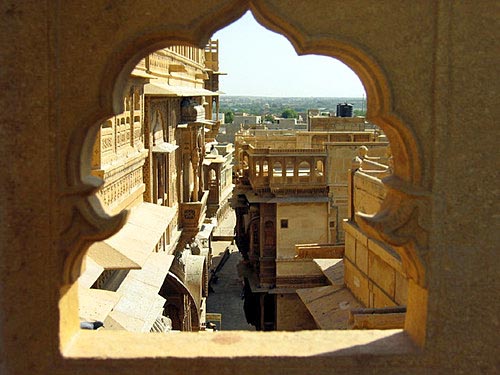 Photo Panoramio